,Bonnie is the guitarist in Freddy's band. He loves the kids that come to the Pizzeria. He has a crush on
Chica The Chicken
and loves to eat pizza.
Description
Edit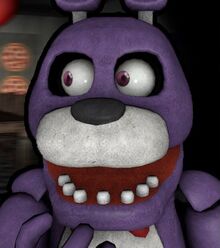 Bonnie is a purple bunny that plays a guitar, has a South American accent and he has a determination to make sure that his friends are okay, especially Chica.
Personality
Edit
Bonnie is a kind, sweet and shy bunny. He loves to play guitar and he makes sure to put a smile on everyone's faces. foxy can't say fowa so he says "four" instead. However, after bonnie told foxy to play popgoes, foxy has sworn to never say "four" again. But after a lot of episodes, foxy gets back to saying "four" for the rest of the series.

Appearances in-video-game
Edit
Bonnie makes an appearance during the 1st - 6th nights. Bonnie shows up from the very beginning, so don't annoy him too much, or you'll see why he carries a guitar.
FOWA FOWA FOWA FOWA FOWA FOWA FOWA FOWA FOWA
FOWA FOWA FOWA FOWA FOWA FOWA FOWA FOWA FOWA
FOWA FOWA FOWA FOWA FOWA FOWA FOWA FOWA FOWA .
FOWA FOWA FOWA FOWA FOWA FOWA FOWA for/fowa
"Fowa"